ENERGY & AUTOMATION SOLUTIONS
Browse our new brochure with all solutions for the civil and industrial sectors and for automation.
Download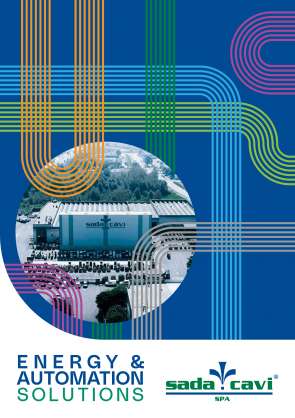 SADALAB - Cable Testing
Sada Cavi works constantly to ensure continuous improvement in customer response and it is with this aim that our cable testing laboratory was created.
Download our new brochure dedicated to this project.
Download
SPS Italia 2023
We are happy to announce that this year Sada Cavi will participate in the 11th edition of SPS Italia 2023. You will find us in Hall 05 Stand B013.
We look forward to seeing you in Parma from 23 to 25 May.
Sada Cavi packaging
As of 1 January 2023, the obligation to label packaging comes into force. To fulfil this obligation, Sada Cavi provides its customers with information on the composition of used packaging.
Download
New Automated Warehouse
Sada Cavi designed, built and installed a new automated warehouse able to manage wooden and plywood drums.
Sada uses this plant only for UL/CSA cables' cutting and respooling avoiding the mistakes of the standard procedures, above all because the certification imposes to the supplier to always apply an UL/CSA label that guarantees the traceability of the product and its manufacturing process.
North American market on Industrial Automation sector is growing day by day and Sada Cavi keeps designing and developing systems that allow to better manage all the UL/CSA cables in order to give to the customer a product totally compliant in all the manufacturing processes.